The essential dual-scoop beauty tool
that retrieves every last drop!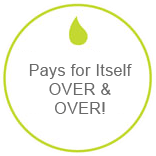 This innovative, fun, and problem-solving product is a must have for every woman's beauty arsenal! The recoup BEAUTISCOOP™ fits into the narrow openings of the smallest and tallest containers to reach every drop you paid for. It's patented dual-scoop design collapses to fit in to tiny openings, clings to the inside of the container and cradles without spilling.
No wait. No waste.
"Finally! an easy, effective way to reach every bit!  Fun to use.
Perfect Gift for any gal!  Customers walk out with SEVERAL!"
– Mallory Baker, Marriott Resort & Spa, Marco Island, FL
VIEW MORE TESTIMONIALS

Limited Time Only
Get the recoup BEAUTISCOOP PRO™ for the same price as our regular scoop!
Don't miss out on this amazing offer!


FEEL THE DIFFERENCE!
recoup your BEAUTY
Problem-solving product for all your beauty needs
recoup your TIME
No wait, no waste – retrieve every last drop
recoup your MONEY
Scoop and save up to 25% more of your products